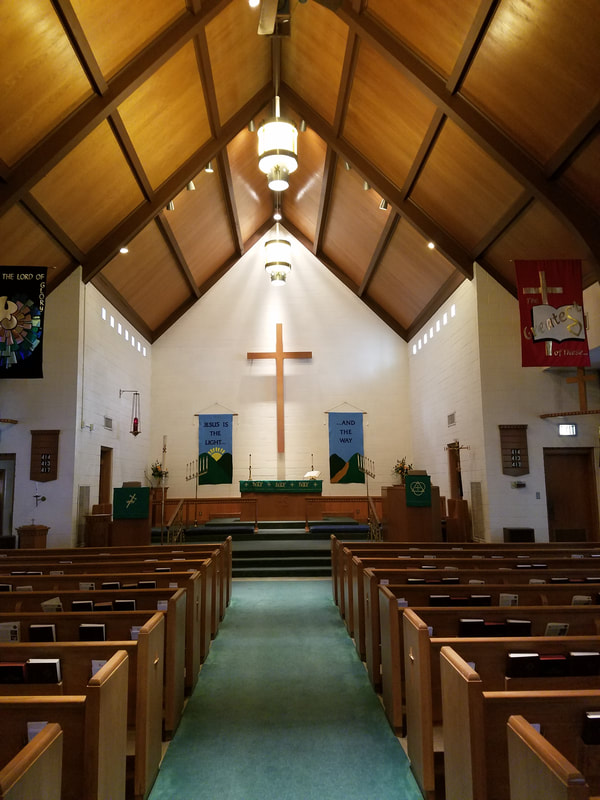 For by grace you have been saved through faith. And this is not your own doing; it is the gift of God, not a result of works, so that no one may boast.  Ephesians 2:8-9
Trinity Lutheran Church is a confessional Lutheran congregation of the Lutheran Church - Missouri Synod. To learn more about the LCMS, click here.
Our History
On January 10, 1943, seventeen Lutheran men of North Little Rock met for the purpose of organizing a congregation on the north side of the Arkansas River. During the summer months of 1939, the Pastors of First Lutheran Church in Little Rock, the Rev. Rudolph Prange and the Rev. Erich Brauer, had begun holding open-air services in MacArthur Park in Little Rock.  Later, these outdoor services were transferred to a site in North Little Rock and conducted each Sunday and Wednesday night through the summer of 1941.  
In the fall of that year, First Lutheran Church purchased a lot at the corner of 17th and Maple streets in North Little Rock, a central location at that time.  In the spring of 1942, the Western District Mission Board was asked for assistance in this mision project.  Shortly thereafter, a call was extended by the Mission Board to Candidate Everett Grese to take charge of a new field. Candidate Grese was ordained and installed as missionary-at-large of the western District at First Lutheran on July 12, 1942, and immediately began his work in North Little Rock.
Meanwhile, the primary problem was to find a place of worship, and plans were made to erect a suitable chapel.  On September 27, 1942, Trinity's first sanctuary was dedicated to the glory of God.  Average attendance at the Sunday morning service at that time was 65.  A Sunday School was soon organized with an enrollment of 33.  In December of 1942, First Lutheran congregation, Little Rock, granted the request for release from membership of its members who live in North Little Rock in order that they may organize a congregation of their own.  
At the organizational meeting, which took place on January 10, 1943, the name "Trinity" was chosen for the new congregation. The new group numbered 124 souls and 81 communicant members. Support of 163 people were present at a special service that afternoon when the Rev. Prange preached on "We Have a Great Work to Do," based on Nehemiah 6:1-4.
Our Pastor
Rev. David D. Vandercook was installed as the pastor of Trinity (and as the pastor of Shepherd of Peace Lutheran Church in Maumelle) on September 18, 2016. Prior to coming to Arkansas, Pastor Vandercook served three different congregations in Texas. Pastor has been married to his wife, Laura, since 2004 and they have been blessed with three lovely children: Allyssa, David, and Kaytlin. Pastor and his family enjoy camping, hiking, and other outdoor activities. Pastor is also an avid road cyclist and an amateur auto and bicycle mechanic.
In addition to his ministry to Trinity and Shepherd of Peace, Pastor Vandercook also serves as the Circuit Visitor for the Little Rock North Circuit of the Mid-South District of the Lutheran Church - Missouri Synod. He is also a regular guest on "Sharper Iron," a radio program on the LCMS's radio statio, KFUO.